How could we go to Argentina without checking out Iguazú Falls?
We couldn't, obviously.
After getting up at the buttcrack of dawn, we landed in Iguazú just in time for breakfast. Sitting in our hotel lobby, feeling like we'd just had an afterparty—which was sorta true—I could think of nothing that would feel better than a nap. As a miracle would have it, our room was ready and they let us have the key.
Once the alarm struck noon, we made our way into the cloudy humidity.
Iguazú doesn't really have a "dry" season. It rains quite often, but it's unlikely to rain for any full day. Nonetheless, it's advisable to give yourself two days to see the whole park. We did it in two relaxing half days and I think spreading the visit out over two days gives you a better chance at seeing sunnier sights.
Arriving to the park, we visited the museum. It was a little sparse people-wise, but offered a brief history into the the indigenous Guaraní, their hunting practices and tools, as well as a short description of how Jesuits interrupted their way of life by setting up missions to convert natives until the Spanish expelled them.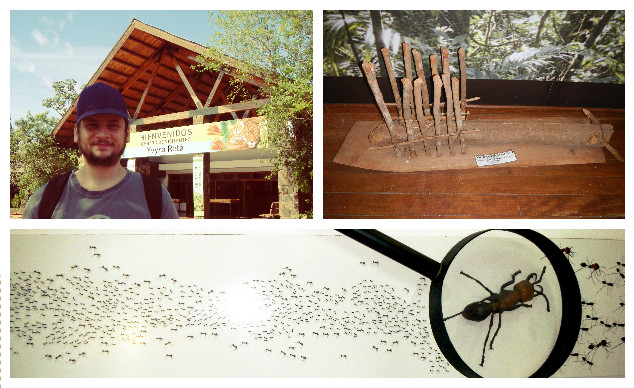 Continuing on into the park we immediately found a kiosk for in-park adventure tours and we we were sold on the Gran Aventura right away. We signed up for our turn to ride a jeep through the jungle via Sendero Yacaratía to the Puerto Macuco Base at the river, boat up to Tres Mosqueteros waterfall (with view of La Gargantua del Diablo by the Brazilian/Argentinian border), and the grand finale: approach the San Martin waterfall, the largest waterfall in the park that can be approached safely by motor boat.
During the river ride an eagle-eyed fellow tourist spotted this family of capybaras! They're fantastic at camouflaging in with their surroundings here. It's hard to appreciate their size without a point of reference, but they're the largest rodents in the world, with adults two feet tall and weighing up to 170 pounds.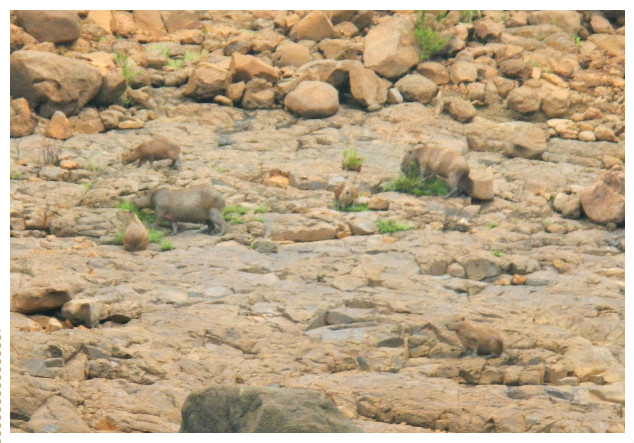 The boat ride was our first encounter with the waterfalls—a wonderfully dramatic way to experience the grandeur of the falls. Iguazú means "big waters" in the Guaraní language, and rightfully so.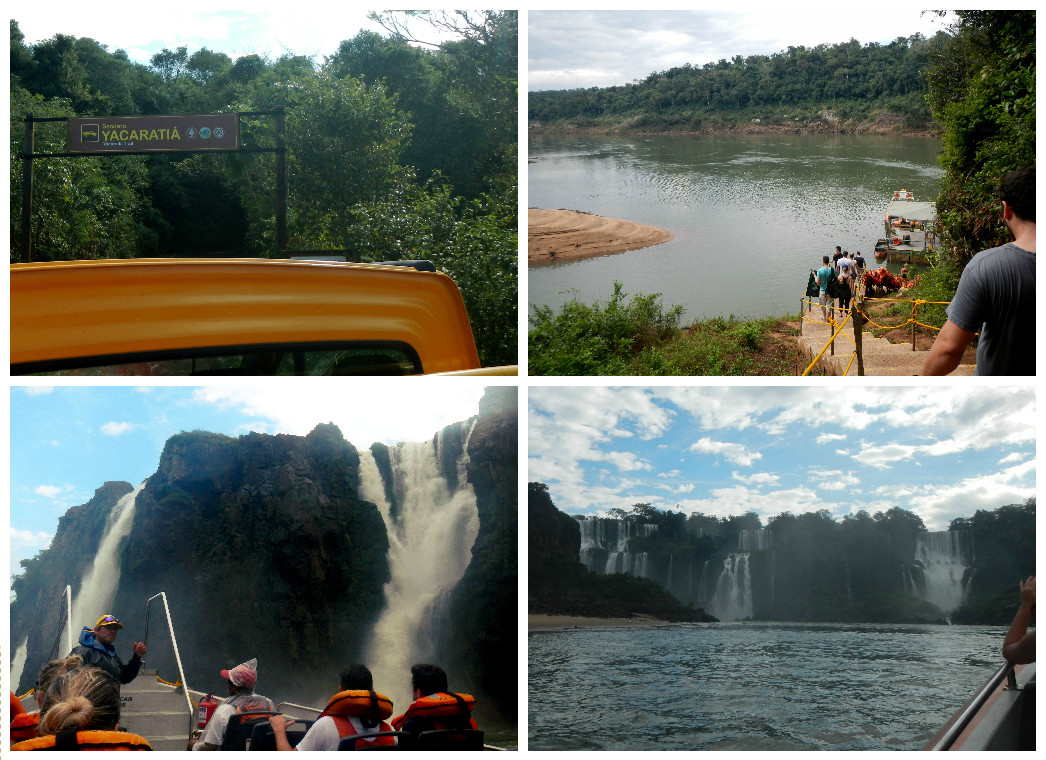 Click to download videos: Saltos Bosetti hasta San Martín and the approach to San Martín.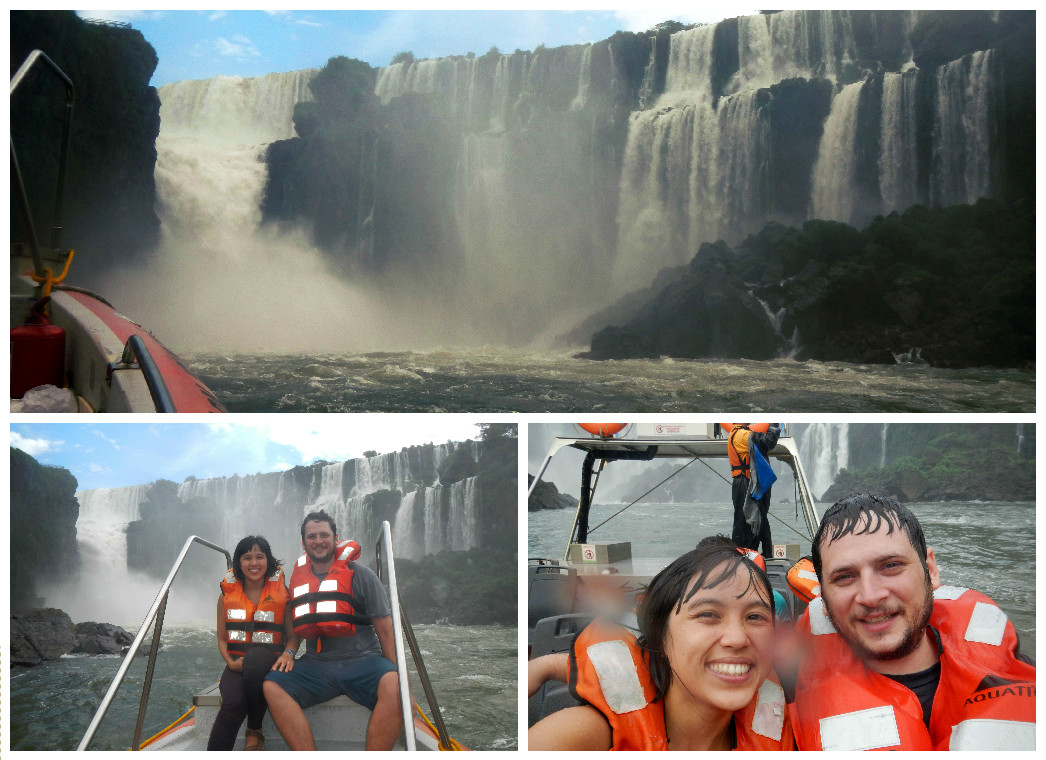 After three approaches to Salto San Martín, making a fantastic finale, we got off the boat at the bottom of the Lower Circuit pathway (Circuito Inferior) where we got to appreciate the falls from another angle.
As soon as we managed to dry ourselves off a bit from the waterfall approach, it started to pour! And quite suddenly. It was like a movie, where you hear the thunder and suddenly raindrops are everywhere, fast, as if the clouds were in a race to join the water in the rivers, falls, and ground around us. A good 15 minutes later it stopped, nearly as suddenly. The clouds dispersed a bit more and the sun peeked out, shining on us, and the park.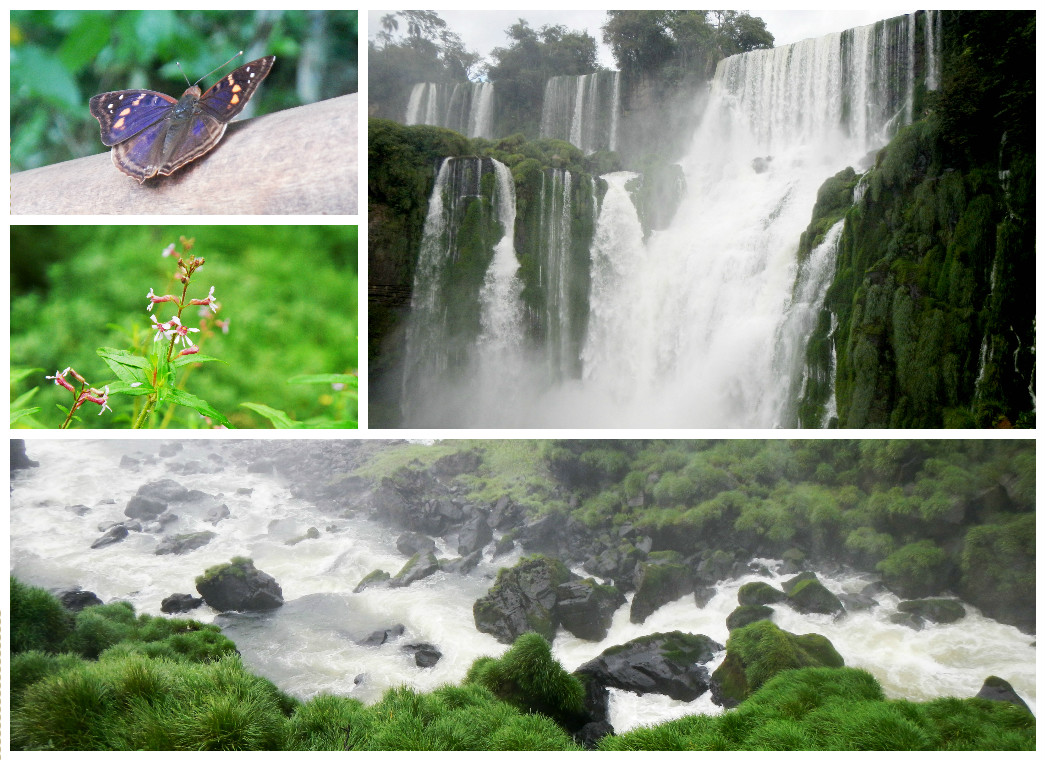 The beauty of this place is active, jumping out from all directions at all times!
The park is home to over 650 species of butterflies and over 450 types of birds. Fluttering wings, misty falls, rainbows, and birdsong made true magic.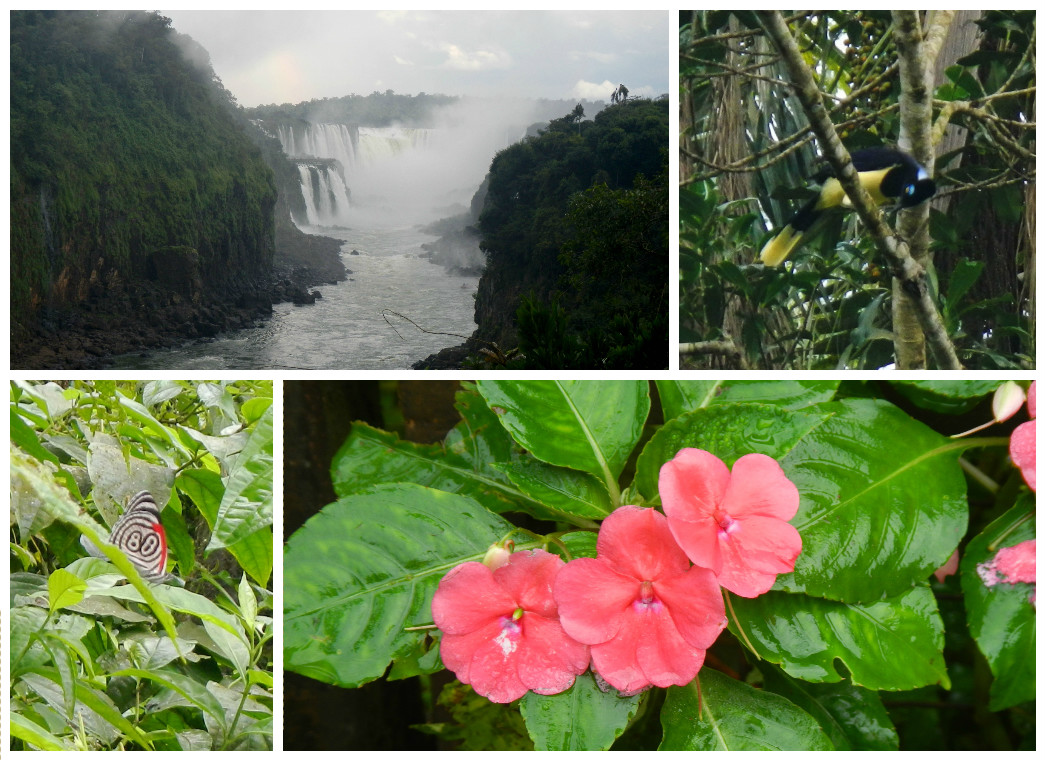 Of course Day 1 didn't end without more amazing wildlife sightings. Hearing what we thought to be a frog ribetting, but from above, we looked up into a nearby tree and spotted a toucan! We proceeded to see monkeys, more coatís, harpy eagles, and a deer all on our way out of the park. Caught last train back to the park entrance before 6pm closing time, feeling fulfilled on our first day, and eager to return the next day.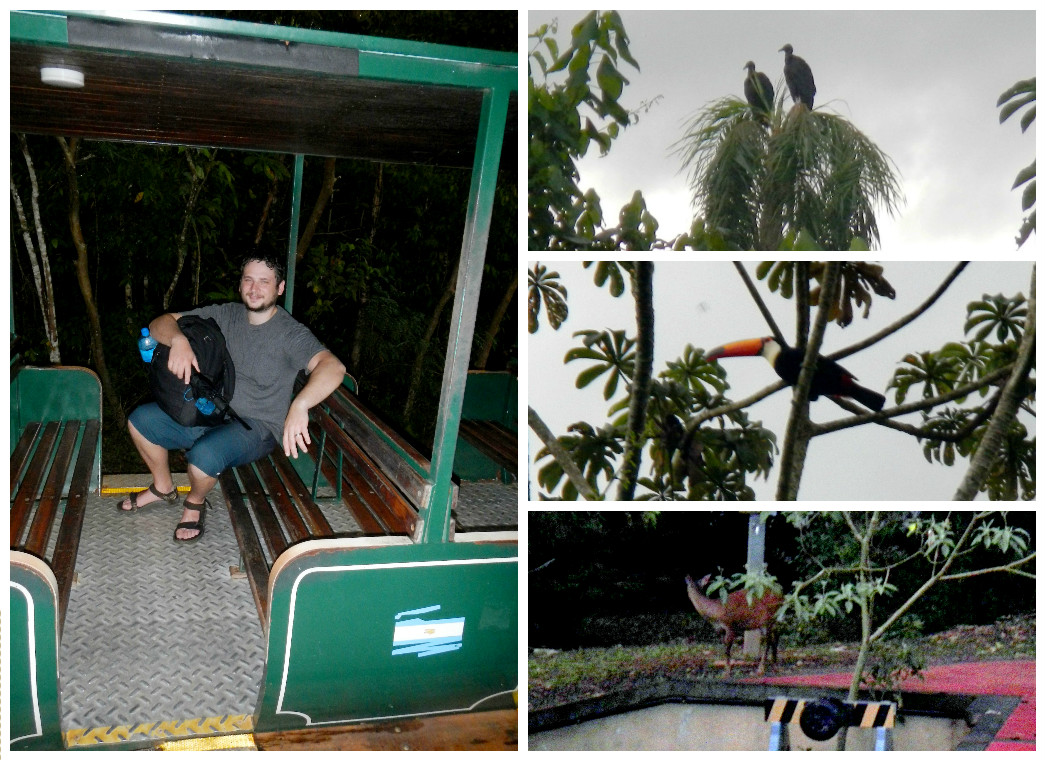 Logistics:
Getting there from Buenos Aires:
Searching for flights on Google resulted in seeing cheaper advertised prices than in reality. The local Argentinian airlines are much cheaper for locals than for foreigners. With a little online searching I found a few sites that explain how you can attempt to get away with purchasing tickets with local fares, but many were written years ago. We didn't bother trying any hacks, but think we got a great price since it's the off-season, paying $255 USD each for round-trip tickets to Iguazú from BA.
Have no regrets about your lack of Argentinian DNI number, once you see the falls, you'll forget about the price tag.
Getting from IGR (the local airport) to Puerto Iguazú (the town):
Couldn't be easier. While there are plenty of taxis and remises, you can save a lot by taking a shared bus, or colectivo. $90 pesos gets you a cushy, air-conditioned ride to your hotel's front door (and you can book a return ride too!).
Getting from Puerto Iguazú to the falls (aka las cataratas):
It's a straightforward drive; there's one major highway and the turnout to the falls is pretty clear. We took a bus with Rio Uruguay
Again, taxis and remises are an option. Our hotel said that a ride to/from the falls + a guided tour of them was $260 pesos/pp, excluding park admission.
I'm glad we chose to ride the bus though, as the guide didn't seem necessary in the the well-developed park. We were able to enjoy it at our own pace and could leisurely experience the park-operated adventures.
Entering the Park:
$260 each, for Americans and most foreigners. They have discounts for students, people with disabilities, though the prices are set to increase soon. Don't forget to go back to the ticketing window at the entrance to receive a stamp that allows you to return the next day for half price. They'll ask you for identification and match your ticket number to your ID so only you can use it. "Segunddiía," they call it, offer's only valid once and only on a visit the day immediately following.