My first thought was Why is there a theater named after Columbus?
Surprisingly, our tour guide addressed this question almost immediately, as if she read my mind. This theater is absolutely European; it wasn't built as a Latin American monument so much as a statement to the (European) world, that Argentina can keep up. Rather than imitate a strictly Spanish or Italian style, it blended many styles together, subtly showing European modernity through this eclecticism.
She told us that the first Teatro Colon was across the street from the Casa Rosada by Plaza de Mayo, but it was demolished after a while and shortly after, they planned to build a grander version that would be (basically) what we see today.
Nothing worth seeing or doing is easy, so they say, and it was so with Teatro Colon. The first stone for the new Teatro Colon was placed in 1892, by chance the 4th centennial of Columbus' journey to the Americas, and perhaps those who named the theater had this in mind. The original architect died pretty early on, as did the next guy they put in charge…with complications and political turmoil involved at the end of the 19th century, it took nearly 20 years to finish construction and the theater finally opened to the public in 1908.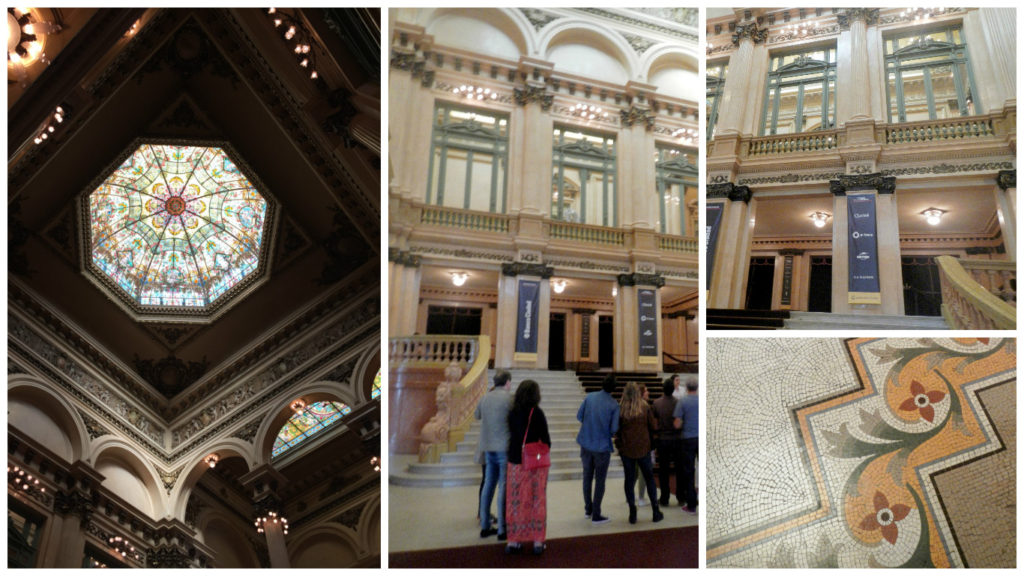 The variety of naturally colored marbles are top quality and their origins are themselves a study in eclecticism. The marble lining the entrance hall is from Verona, the staircase is made of white marble from Carrera, the railing is yellow marble from Siena, the railing is made of Portuguese marble, and the black marble accents on the first floor are from Belgium.
(I had no idea know marble came in yellow!)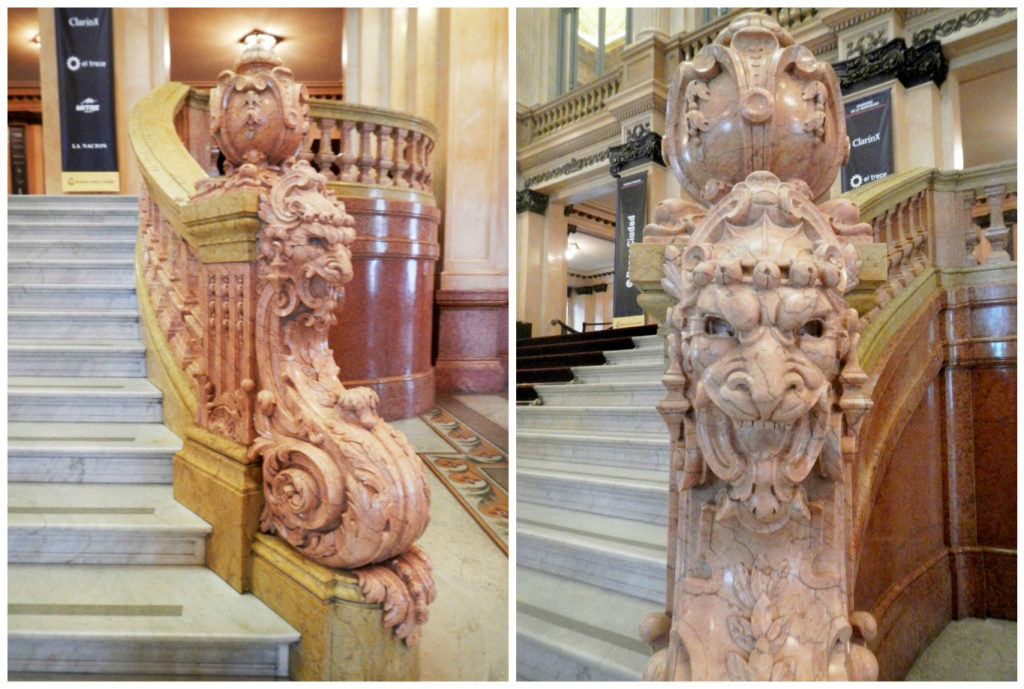 The theater wasn't just a place to be cultured, it was culture then. It was society's Facebook, YouTube, Tinder, and MySpace (both the original networking site AND the current-day music center). It was where folks went to see the latest music and dance, as well as socialize. You could learn a lot about people during the intermissions and the very building facilitated interactions between attendees. Did they enter through the main foyer, or did they buy cheaper tickets and need to enter through the sides? What jewels and clothing were they wearing? Who did they come with?
Upstairs, our guide showed us where the socialites interacted. The Hall of Busts is an homage to the arts, named so because of the busts of famous composers: Beethoven, Bellini, Bizet, Gounod, Mozart, Rossini, Verdi, and Wagner.
It also has a famous statue of Venus and her son Cupid. They say standing around this statue can make you fall in love. Cupid is whispering into Venus' ear the names of the couple and she is providing him with a love arrow.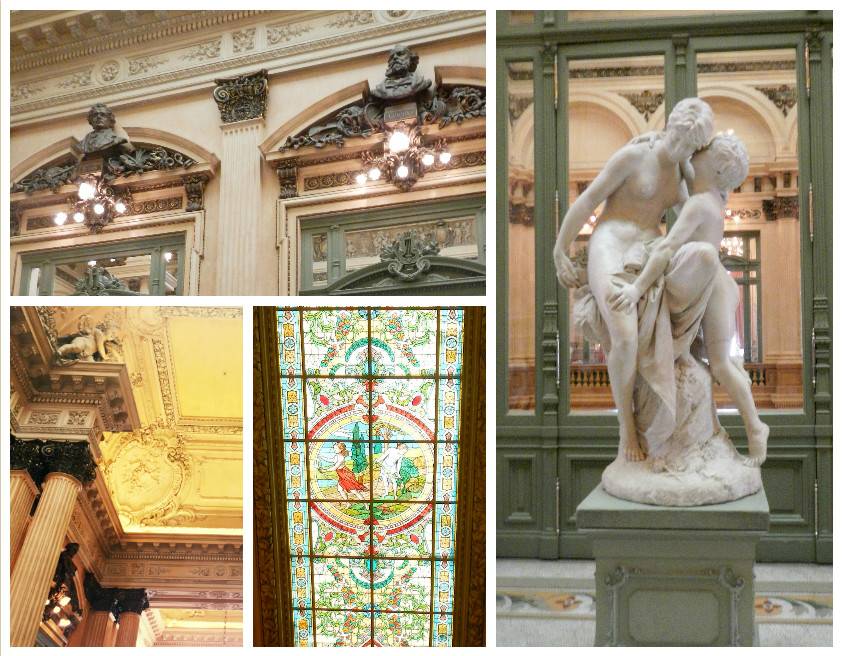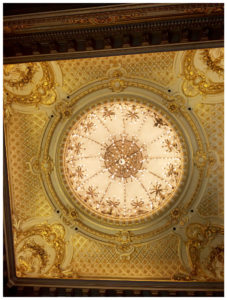 From the Hall of Busts we entered The Golden Room, named so because of the 22k gold leaf used in the molding around the walls and ceiling. Chandeliers in the ceiling each weigh half a ton and have 200 lightbulbs and mirrors each (and there were at least 3 of them).
The fabulous lighting could hide skin flaws of modern-day selfies, but back then it was pure opulence. The room provided attendees a great venue for flirting and socializing during intermission.
The women back in the day used fans to tip off potential suitors. Aside from battling the soaring summer temperatures in Buenos Aires (it reaches over 100F with heavy humidity), fans helped to communicate one's status as single or married by showing off all the fingers in your hand. To top it off, they're also quite coquettish.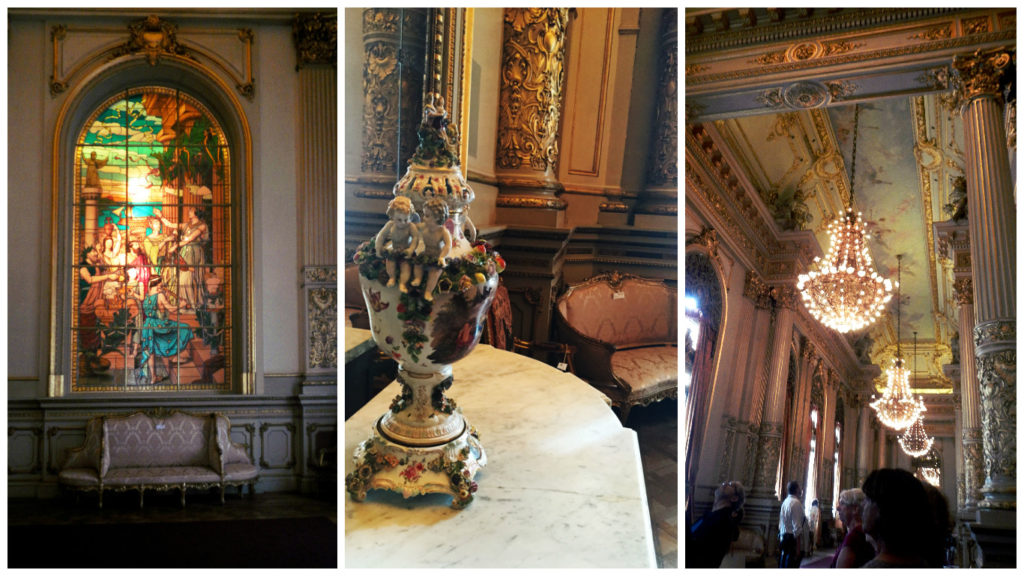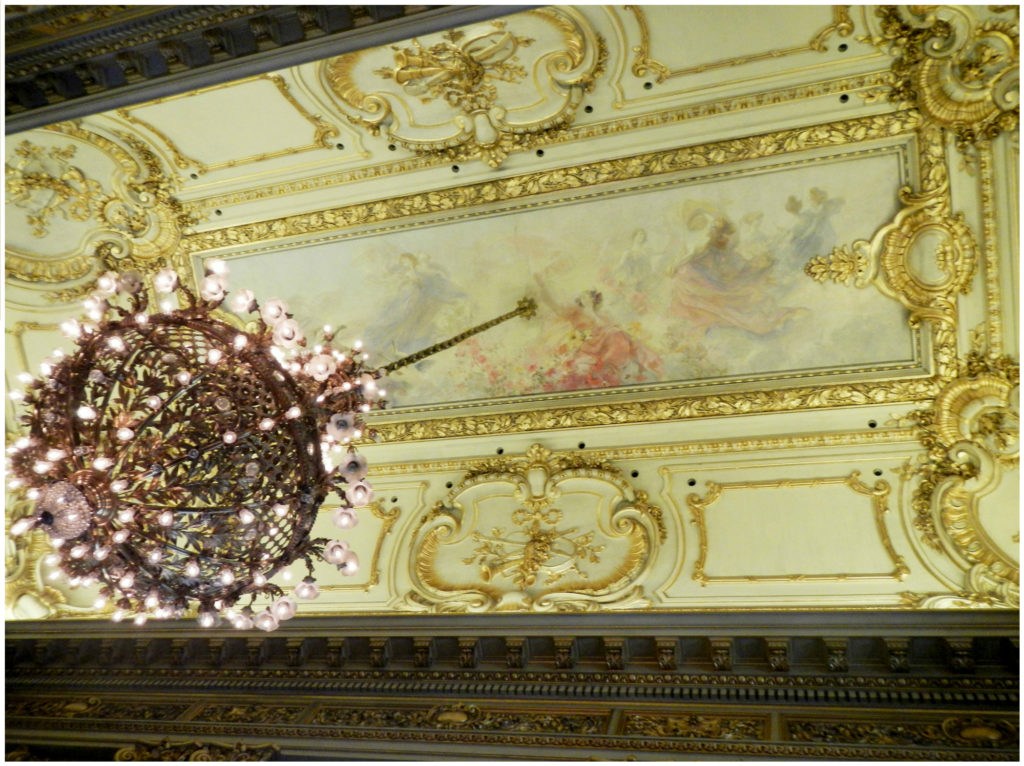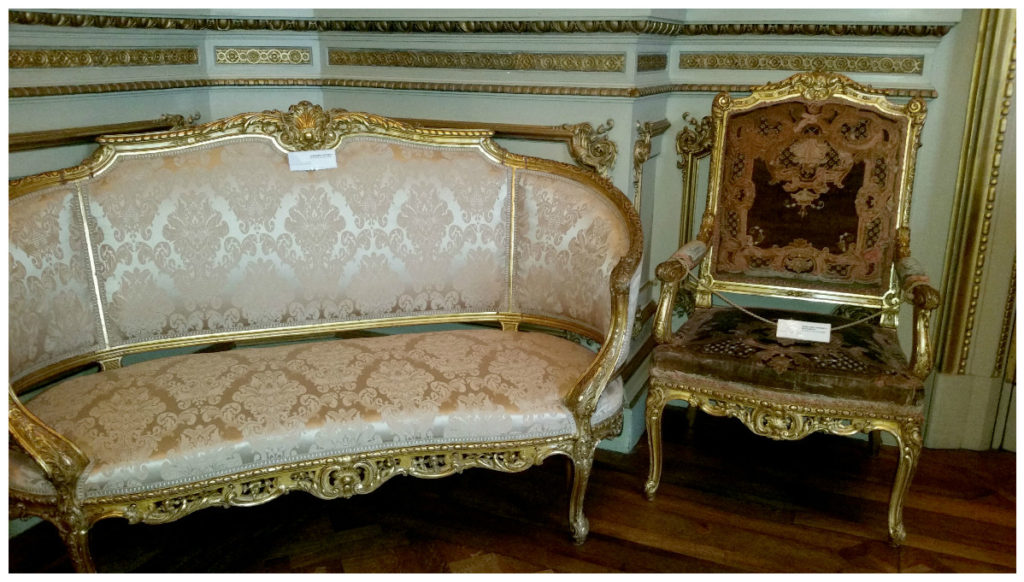 The hand-stitched furniture served not as a place to take a seat between acts, but as talking pieces to facilitate mingling, and our guide gave us an excellent example of how this could be. Imagine hearing this: "Isn't this couch lovely? It reminds me of the furniture in Versailles. I bought something similar recently when on a trip to Paris." You would likely assume that this person knows about style, furniture, has travelled to Europe and is advertising that they are rich! Oh social politics.
The Golden Room really was modeled after Versailles. Extravagantly luxurious, the hall is now used for lectures and public events.
The theater went under restoration nearly a hundred years after it opened, taking three years and $100 million dollars. The Golden Room exhibits a patch of the wall and trim in their original state to show what a hundred years of wear and tear can do to a building's paint and detail.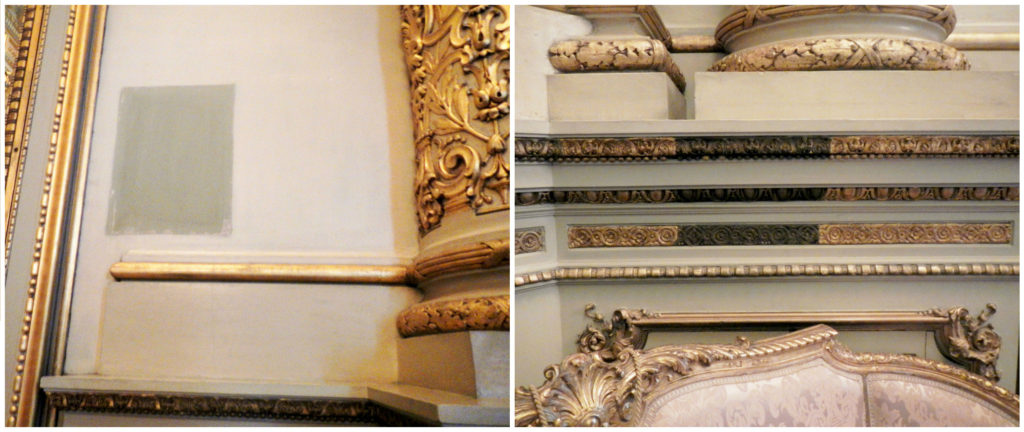 Finally, it was time to enter the main room in the theater. Our guide unveiled it to us in all its majesty with a dramatic opening of the curtains at the back entrance.

Teatro Colon is known for its flawless acoustics and unusual horseshoe shape. Taking a seat during the tour, our guide explained that the acoustics were designed with attendees in mind, the soft fleshy bits of each seated audience member would absorb some sound and incorporating the audience into each performance. Accordingly, the true impact of the theater is only possible with the full audience.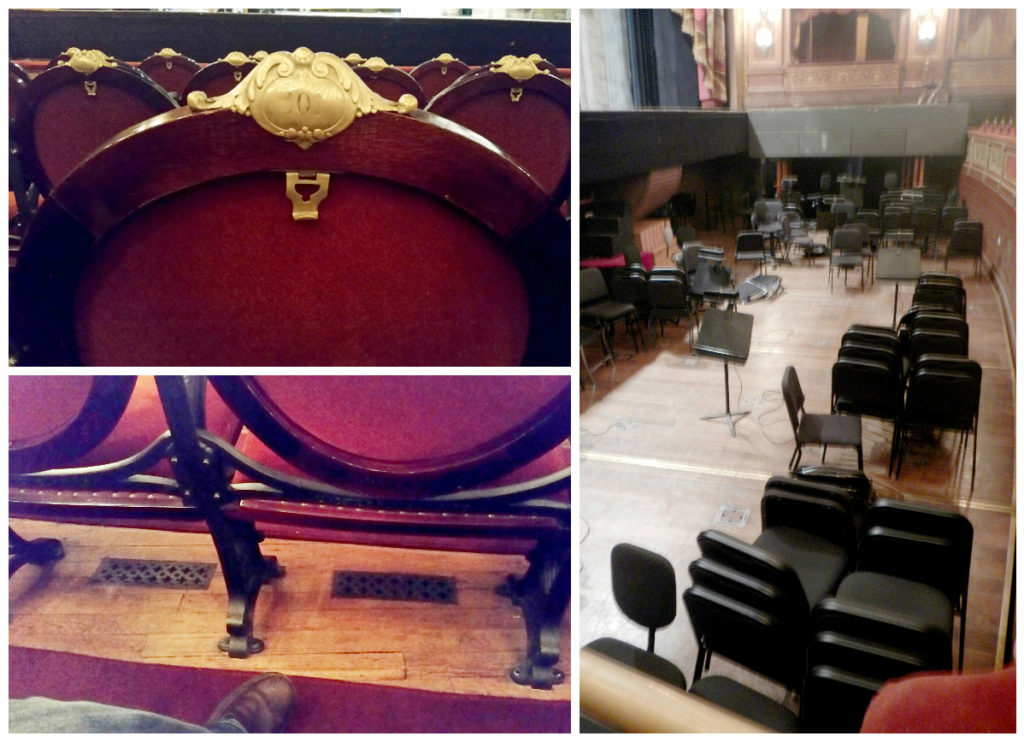 Seats were fabulous—red velvet and wood with beautiful detail on the seat numbers (and even a hook for a purse!). The grates under each seat help distribute sound from the orchestra pit, which can be raised or lowered depending on production needs.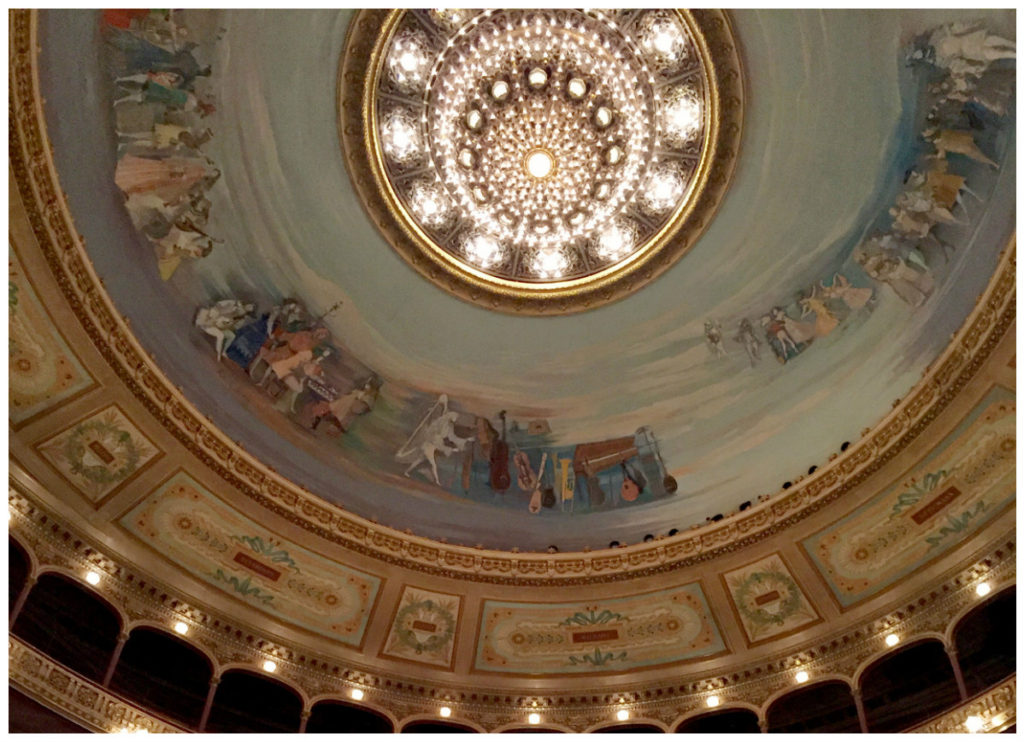 Even more astonishing is the ceiling, with a mural depicting a muse inspiring all sorts of arts (a white-ish ghost/spirit-looking figure). This chandelier weighs 2 tons and can be lowered all the way to the ground for maintenance. There are grates and spaces in the ceiling that can accommodate choirs in order to provide sound effects from above (like angels singing from the heavens, for example).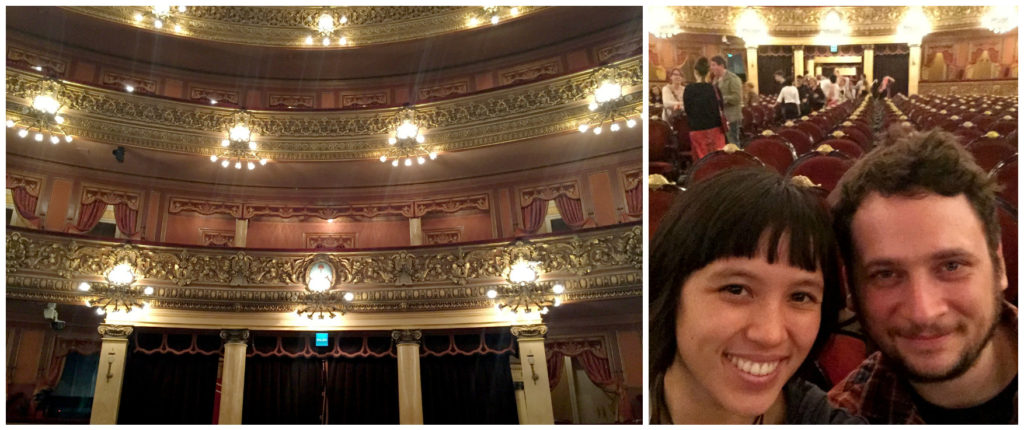 With 2,478 seats and standing room for 500, almost anyone could afford going to the theater, but all views are not created equally. Of course your seat/section indicated your status as well.
The box to the right of the stage, in the second row was traditionally reserved for the president and the mirroring box on the left of the stage, for the city mayor. While they're not very good seats from which to view the production, they were fantastic for keeping such notable figures actions/reactions in the audience's view, effectively making them part of the show too.
The upper floors are known as the henhouse (aka nosebleed seats). While viewing might not be great, acoustics from here should be just as spectacular. There's a standing room section for women, and another for men, a tradition that is still held today.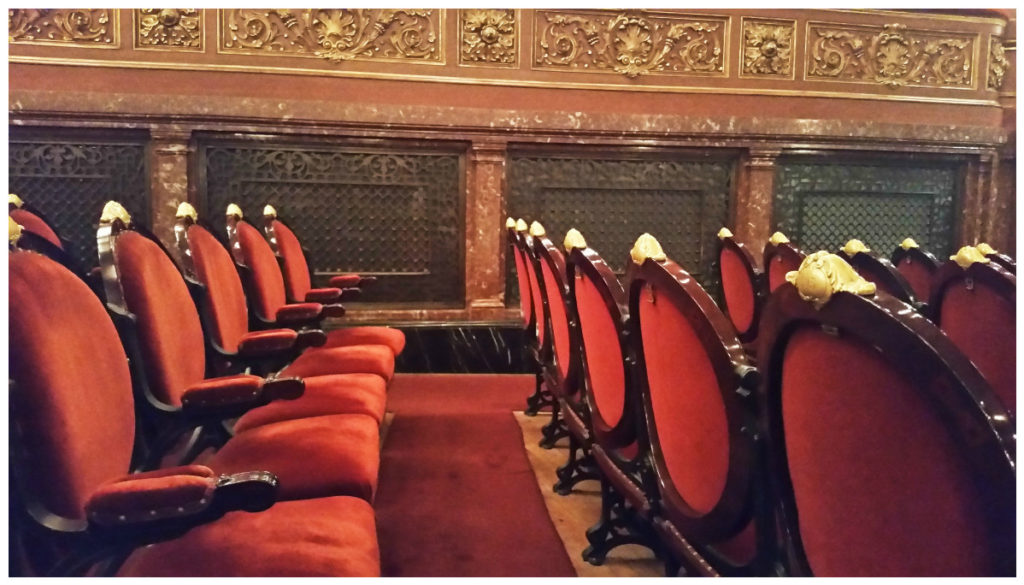 A less-noticeable feature are grates surrounding the floor seating. These were boxes where recently-widowed women could listen in (because I can't be sure they could really see anything). When a woman was widowed, it was expected that she mourn for two years, and avoid partaking in social events during that period of time. Seems unfair that when her husband's life ended hers should too. These are no longer used as seats and according to our guide, may be used as storage for the theater.
Our tour guide mentioned that all the costumes and props are made in a system of rooms and pathways that traverses underground, underneath Viamonte street. This area is off-limits to tours, but boy, that would have been some adventure too.
Logistics:
Tours cost 200 pesos per person and are given every 15 minutes and they last approx. 50 minutes each. It can get quite busy, but lines move quickly. Double check the language of the tour you're buying tickets for if you're looking for one in English.