We didn't do much research before setting up our little weekend getaway, but that hadn't slowed us down before. This time, it may have hurt our ability to see a city truly shine. After our Saturday afternoon in Colonia, we took the 6pm bus to Montevideo, another 2.5 hour ride. It was pretty comfortable, and it made it to the downtown station perfectly on-time. Roadside views were quaint and green on the way there and the colors of the sunset really made a nice view.
The bus terminal downtown is actually part of an elaborate shopping mall called "Tres Cruces." The bottom floor looked to be the bus station, with lots of ticket windows and plastic waiting room seats before the bus platform. Above that was a supermarket, and above that, a few floors of upscale-looking shopping mall area, and parking. Talk about one-stop shopping (and travel!).
As with most travel terminals, a taxi was easy to find and we were off to our AirBnb hostel to check in before exploring for dinner. The taxi driver said that Pocitos, the neighborhood we were staying in, was "exclusive." When I asked him whether that meant exclusively for tourists or perhaps for the rich, he thought about it for a second, and responded simply "for people with backpacks? NO!" (did he see our backpacks with an overnight change of clothes?).
It wasn't Rodeo Drive by any means, but seemed like a lot of elderly and well-off were around, considering the proximity to the beach and modern-ish buildings. After some walking around, menu-comparing, and TripAdvisor sleuthing (see tip#1 here), we settled on a restaurant that was emitting a delicious fire roast/smoke smell and had solid ratings.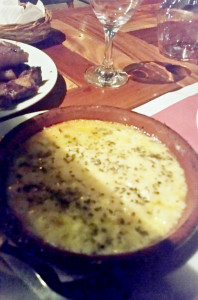 It was pretty good, especially when compared with the terribly disappointing lunch earlier in the day. We tried murcilla salada (savory blood sausage) for the first time and found it quite tasty! They also have a dish of melted provolone, which is exactly as it sounds. I think Jon described it as something he imagines should be on a pizza, likely because it tasted like a pizza without bread or sauce. Another new regional specialty food to us was the "Chivito" or thin cut of goat. It was tender, not gamey, and covered in more cheese.
If there was one thing we truly enjoyed in Uruguay, it was the asado. We went back in for another round the next day after a walk through Ciudad Vieja, consisting of a pedestrian street and storefronts, which were almost entirely closed by the time we arrived (1pm or so). We finished our walk through the historic area ending right across the street from the port, at the Mercado del Puerto. Much like eateries at Grand Central Market in Los Angeles, or even the Mercado Central in Santiago de Chile, this was a big building with lots of stalls and eateries.
From the outside you could smell the asado a la leña, or wood fires, and from the inside sights were even grander than the nose could predict. We were sold on the gimmicky rotating grill, but found that when the lunch crowd came en masse just 30 minutes later, most of them joined us at our eatery of choice!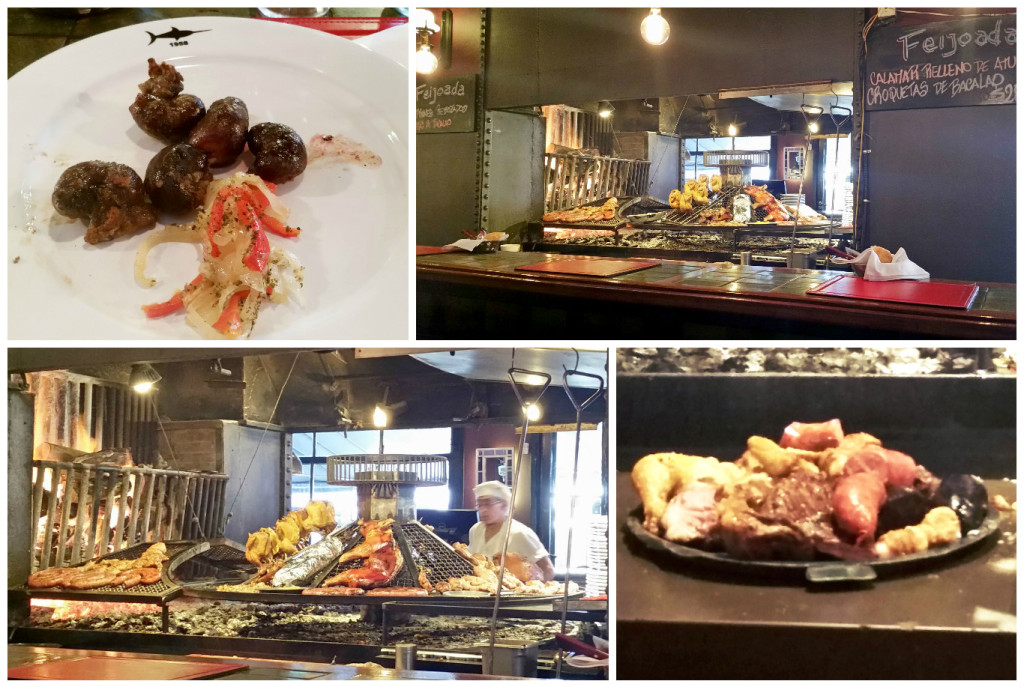 I ordered the riñones de cordero (lamb kidneys). The first bite was very offaly and a bit metallic, but I found that the more bites I ate, the more enjoyable they were. By the last bite I was a fan, though I think I did enjoy the savory blood sausage more.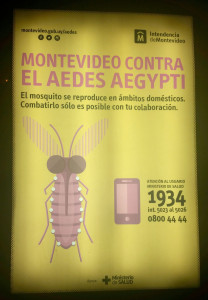 Unfortunately, the rest of Montevideo was lackluster for me.
Firstly, it seems to have no shortage of mosquitos, the bane of my existence in even the most semi-tropical/slightly humid locations. With my mosquito magnetism and a single overnight stay I left with itchy legs, knees, arms, and back—and that's after using repellant! I didn't seem to be bothered by these buzzing bugs in the daylight, but their prevalence seems high enough to warrant a multi-ad campaign for mosquito awareness around the city and a dedicated telephone line.
The beach in Pocitos is one of the cities top-rated attractions and was pleasant enough, but I'm quite spoiled by a childhood in Southern California next to world famous beaches and several trips to white sand (even black sand!) and warm Carribbean waters. After a rain the day before I would not want to enter the water anyway, so this was just a quick stop before we moved on to the downtown area.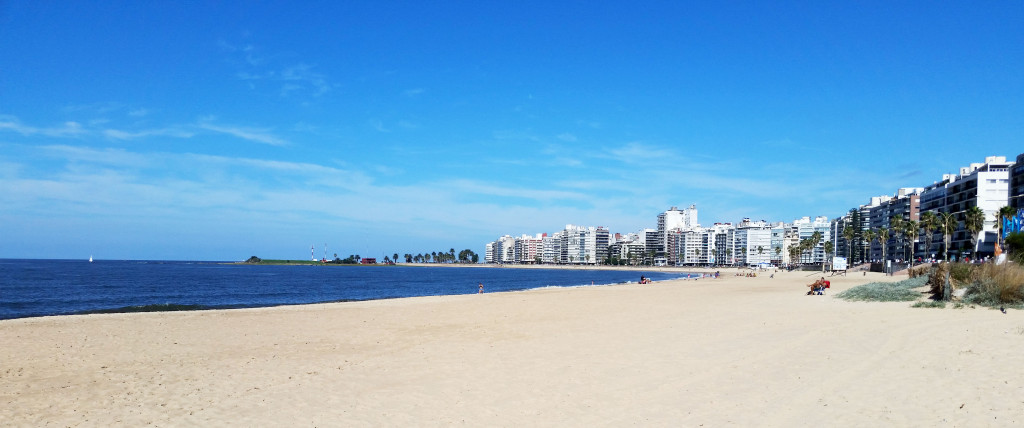 Downtown was dead. So it seemed with shops closed Sunday and few other passersby (compared to other cities like Santiago or Buenos Aires, which also wind down on Sundays).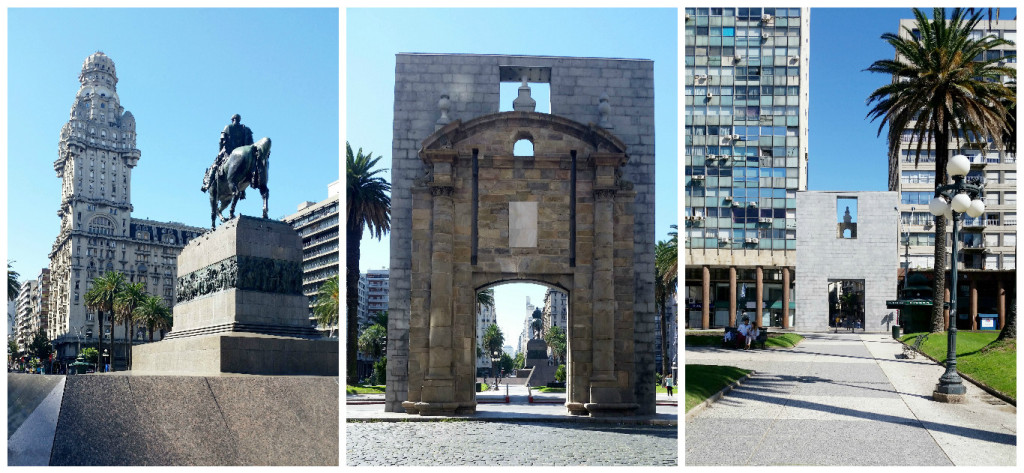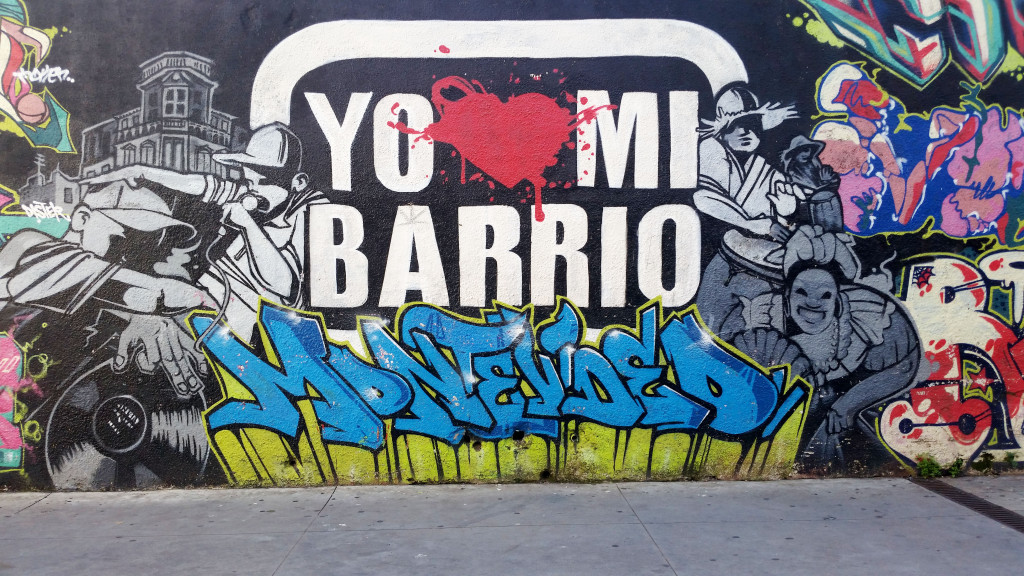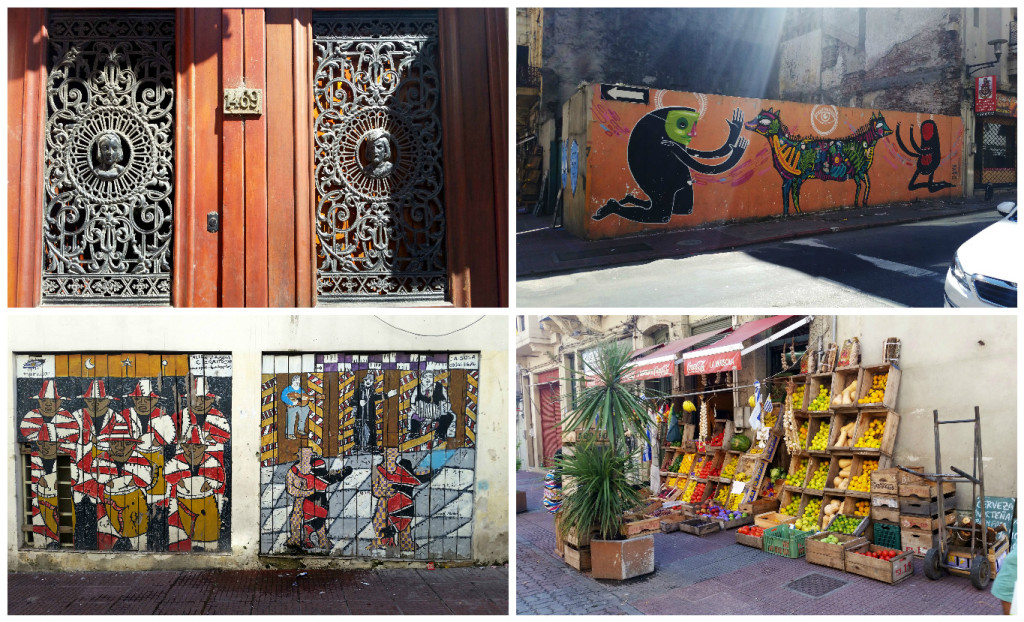 With a few awkward hours between lunch and our bus departure we found ourselves at the Museum of Carnival. For a small fee you can enter the small building where they house costumes and paraphernalia from previous carnivals.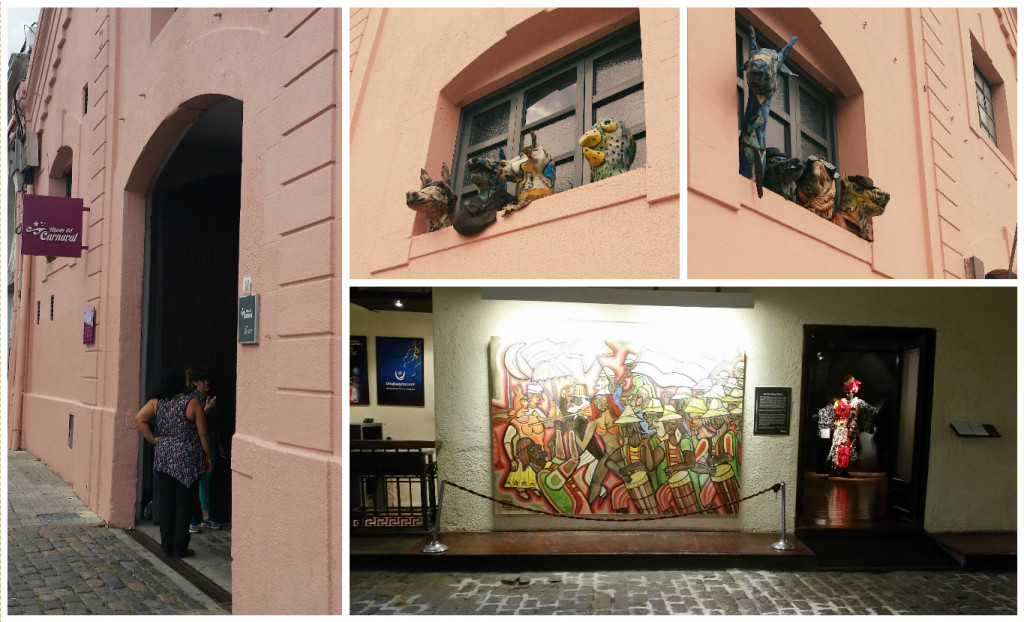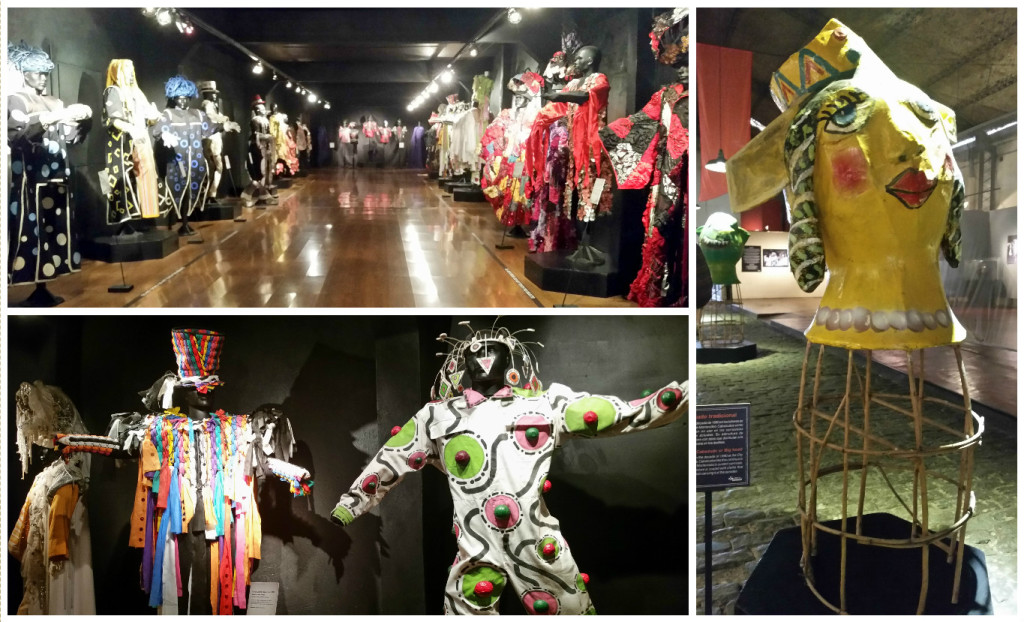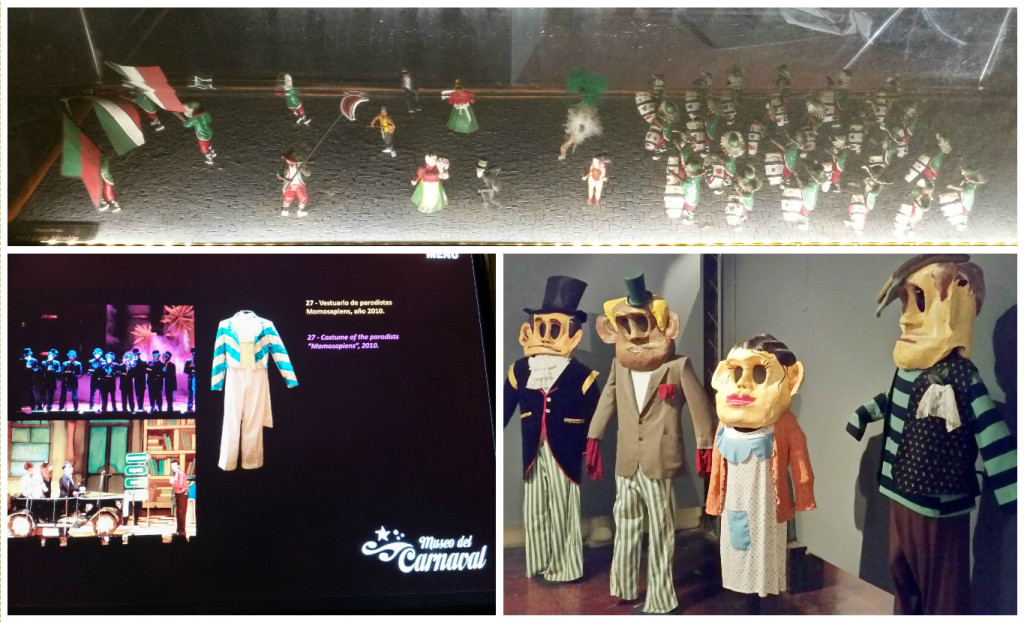 We appreciated it as much as we could (cool outfits and costumes made of all sorts of things!) but were done in about 30 minutes.  And that was with some interaction with the touch screens and plenty of admiration for the museum objects. So we continued to wander around the port area.
Live music in front of the port restaurant area drew us in to enjoy a singer accompanied by a pair of tangueros. We watched until they packed up, which sadly, was not long after. A drunk guy watching their performance started a kerfuffle with a nearby restaurant (perhaps refusing to pay?) and the police had to escort him away. We saw him thrown money on the ground at the hostess' feet in anger before his friend tried to intervene.
Still with plenty of time, we made the hour-long walk from the port area back to Tres Cruces to catch our bus back to Colonia where we'd then take the ferry back to BA. We may have walked through a rather poor part of town, but there was a striking amount of disrepair all around us. Many boarded up buildings boasted "for sale/for rent" signs. We saw kids playing soccer on the street right next to a dead cat with rigor mortis (a rather horrifying sight).
The only notable sights from the walk were a Sunday farmers market/antiques fair (as it was packing up for the day) and the obelisk. Both were smaller, shorter, and less impressive versions of what we found the weekend before in Buenos Aires.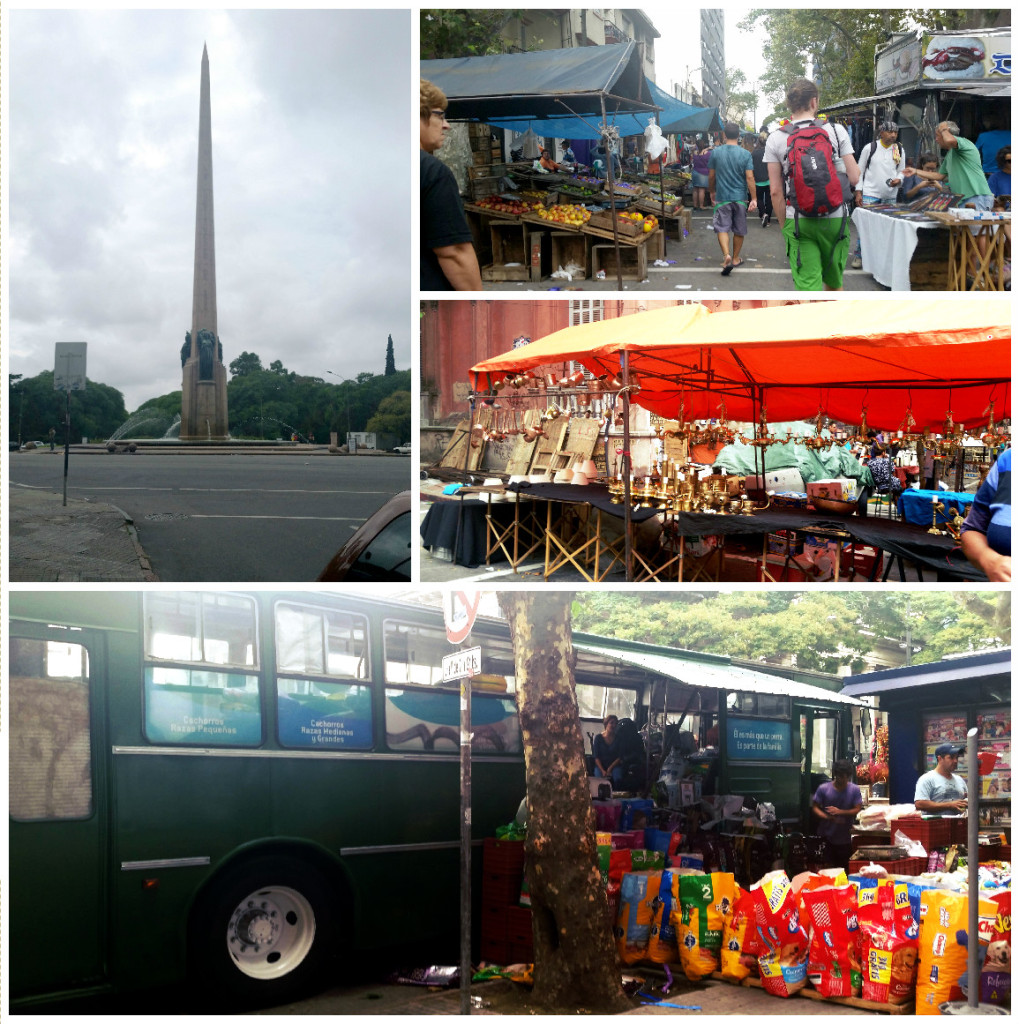 Just in time for our bus, we were surprised to see that it was nicer than the one we arrived on. It had stairs up to where the seats were (lots of storage for checked luggage). Every seat came with a pillow and there were these things that folded down from the seat in front of you to your seat, with the purpose of propping up your legs since the seats recline to about 150°.
The port at Colonia was an adventure in itself, to be honest. The check-in system crashed and the crowd of people had mobbed the desk (from both sides!). Apparently their solution is to call out names of passengers and hand tickets to those that raise their hands (no ID check necessary when rushing to please a mob, apparently).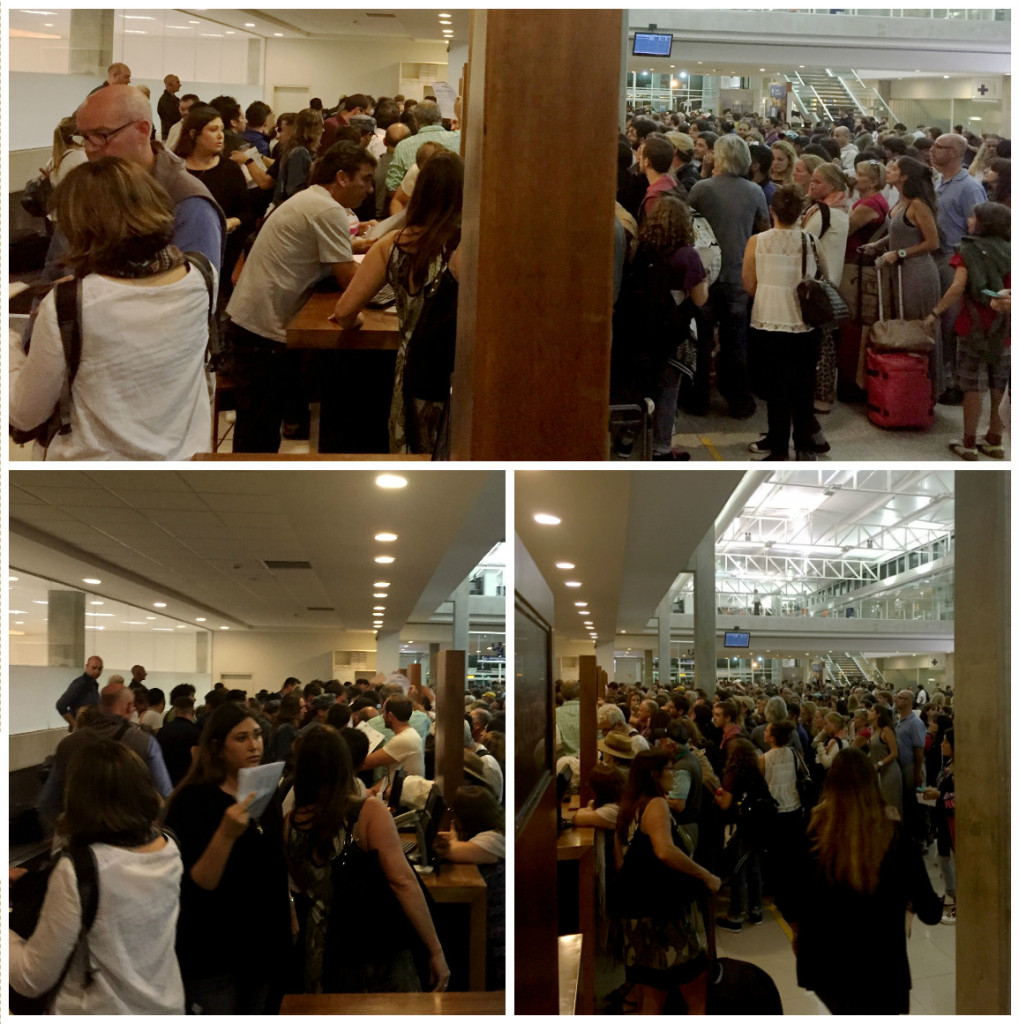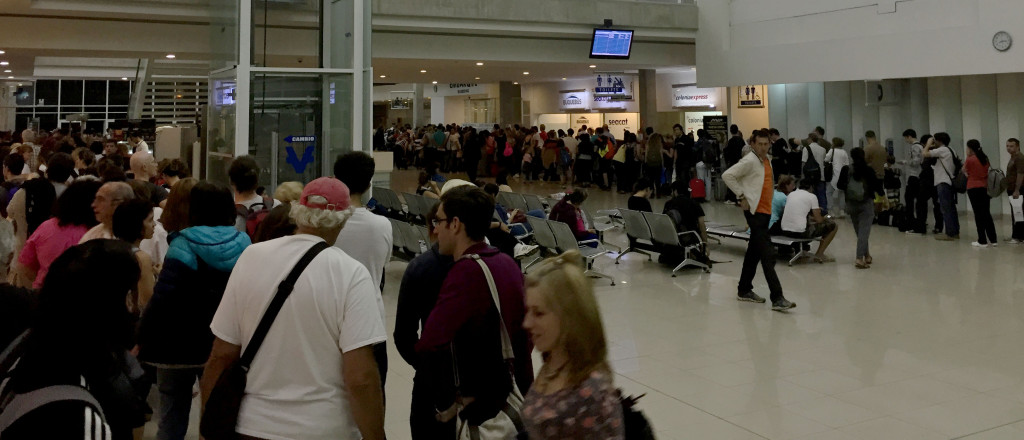 Uruguay, it was an eventful weekend. Though it was great to see another place and experience more, were happier than expected to return to Buenos Aires!