Doing research on Thailand and getting recommendations from friends led me to the following tidbits of info/thoughts prior to arriving in Thailand:
It's hot and humid, pretty much year-round. According to my Lonely Planet guidebook, Bangkok is one of the hottest cities in the world!
Feet are considered dirty. Taking off shoes when entering the home or a temple is a MUST.
They take Buddha worship seriously. On the same note as the above, when seated near Buddha, you must make sure your feet are pointing away from him.
The King is highly revered, so much so it's an actual crime to speak badly or out against him.
As a salutation, Thai people wai, where they put their hands together, palms and fingers flat against each other as you give a head nod/bow. Apparently the higher the hand placement (chest, face, forehead, etc.), the higher the social status—a monk will always get a very high wai.
Thailand is cheap.
The food. MUST EAT ALL THE FOOD.
24 hours later, here's how research matched with our first, and limited, experiences:
Definitely hot. But not unbearable. Perhaps our experiences in Tampa, FL in the middle of July made us brace for the absolute worst.
Custom of taking off shoes confirmed. Our Airbnb host took his shoes off when showing us our apartment. When visiting the Jim Thomson museum/house, all were required to remove shoes before touring the interior as well.
There are signs at the airport's border control calling Thailand "Buddha Land," which they describe as meaning no tattoos of the Buddha or purchase of souvenir statues depicting the Buddha allowed (that are not for worship).
Seems service industry people wai at the end of transactions too. At the nearby mini-mart, the cashier gave us a wai after we made our purchase.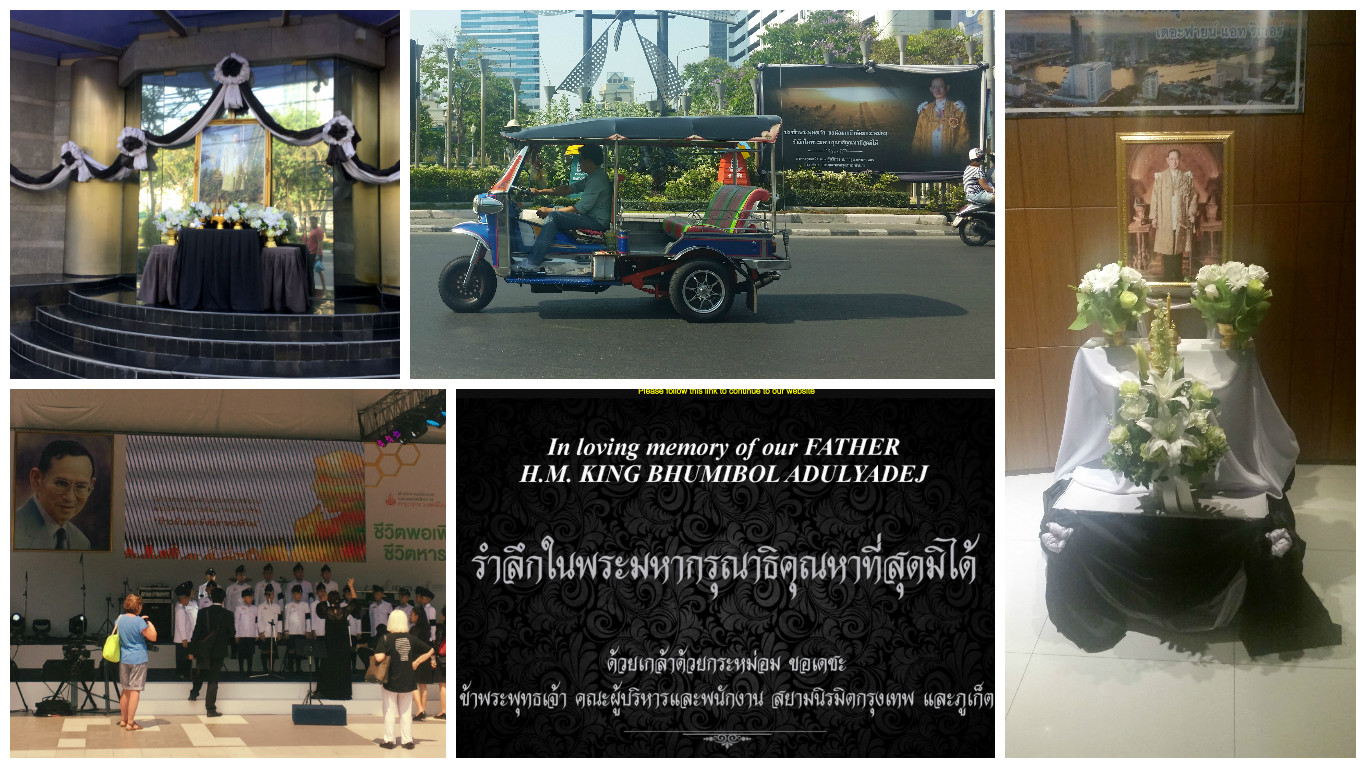 The King passed away last October and we are still within the year-long period of mourning. There are billboards, signs, and general RIP messages and offerings to his framed image EVERYWHERE. One of the biggest billboards I've seen in my life, which spanned the width of at least 15 regular billboards was what welcomed us on the way from the airport to city center. I'd read somewhere that if you drop money on the ground, you don't want to step on it to keep it from blowing away because it has a picture of the king on it. Respecting the money is a real thing; while eating at a local noodle shop our first night here, we saw the customers to our right clean their money that accidentally had gotten sauce on it before using it to pay the bill. He gently dropped a few drops of water on it using a straw and tenderly wiped it off, making sure it was completely clean.

1 USD = 35 Baht right now.
By US standards, price of labor is ridiculously low, making everything cheap. Food is just the beginning. Our Airbnb host drove us by what he said is one of the best massage parlors in the city. For $15 USD, you can get 2 hours of Thai massage! Must try this one out before leaving Bangkok.
Here's some more from our first 24 hours here: