Of course one of my most pressing interests in every place we visit is the local cuisine. In Austria, there is Viennese cuisine, the only country in the world whose cuisine is named after a city, and here we were in the heart of it all!
As an American, when I hear Wienerschnitzel, I think of a red and yellow A-frame hot dog stand and a cartoon commercial. While it tries to be punny, in English, the real thing is quite different.
It's actually Wiener Schnitzel, two words. "Wiener" meaning "Viennese" (Wien is Vienna in German) and the dish is the "schnitzel" ("little slice").

It's a breaded steak that's been flattened. In Austria and Germany, if you order Wiener Schnitzel, it's definitely veal, served with lemon and most likely very small parsley potatoes. It's basically a Milanesa, if you've ever had one of those. There are also other schnitzels, like schweine (pork), but those must be specified.
Now the Sachertorte is a special sweet that was first created here in Vienna.The history of this cake includes a 9-year lawsuit over which bakery can claim the title of "original." We went with the one we stumbled upon, which happened to be the winner of the lawsuit.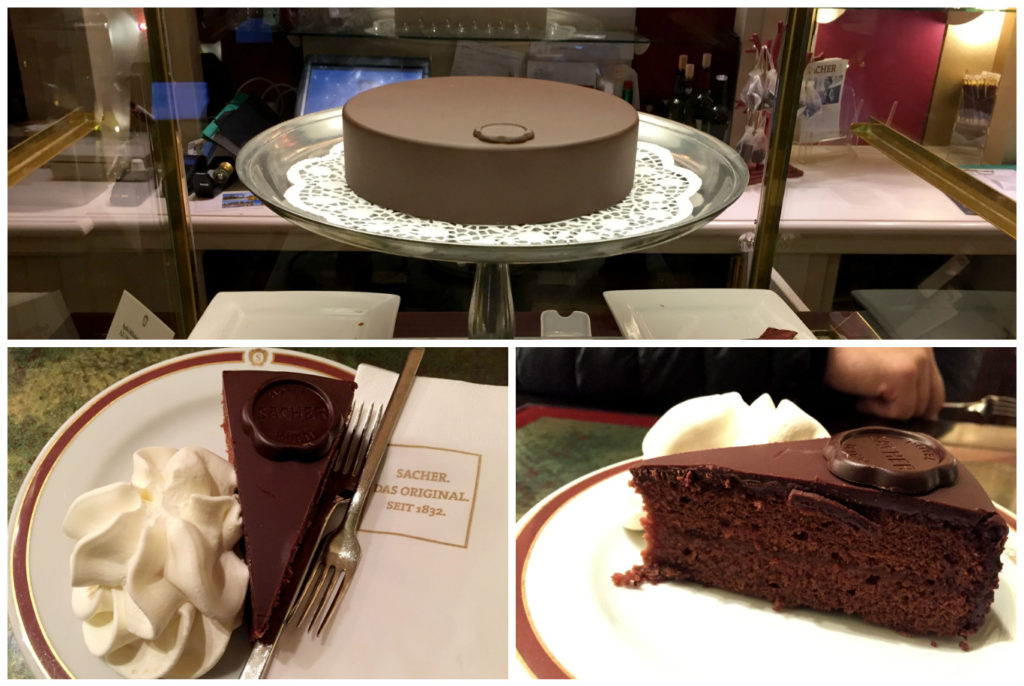 It consists of a chocolate cake with apricot jam layered in it, covered in chocolate frosting. Traditionally served with unsweetened whipped cream, a perfect accompaniment.
It's a distinctive flavor, the apricot jam, and a nice tart contrast to the extremely rich frosting. The cake itself was a bit drier than I would have thought, but the whole thing went well together. The combination of cake, jam, frosting, and cream in every bite felt quite luxurious.
There are of course other delicious specialties that are famous in the Austria/Germany region. You can bet we'll be eating lots of these.
Würstelstands are everywhere.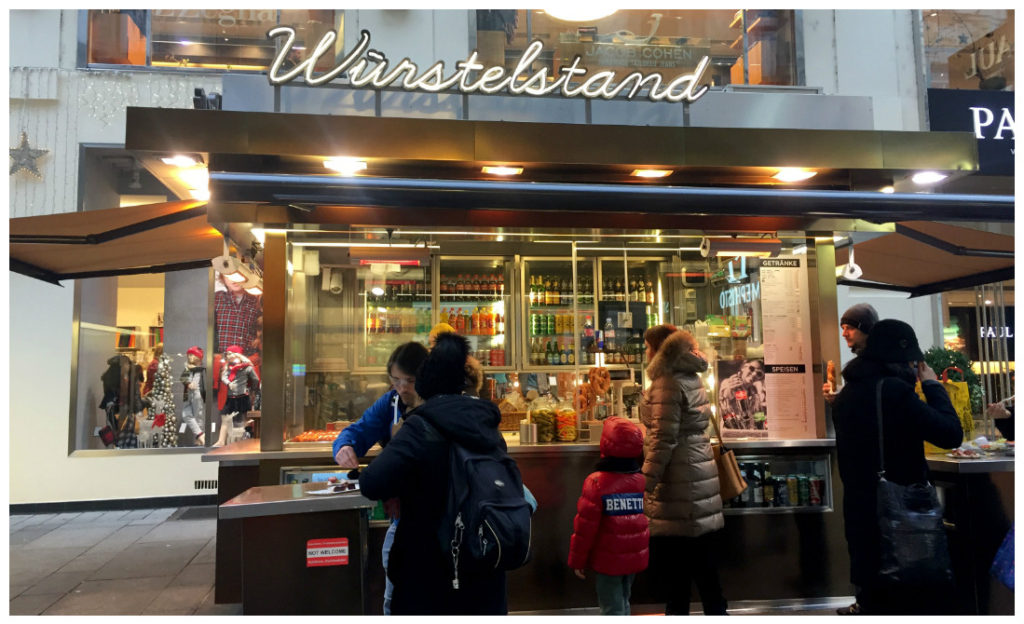 So many kinds of sausage! We tried a traditional Bratwurst first.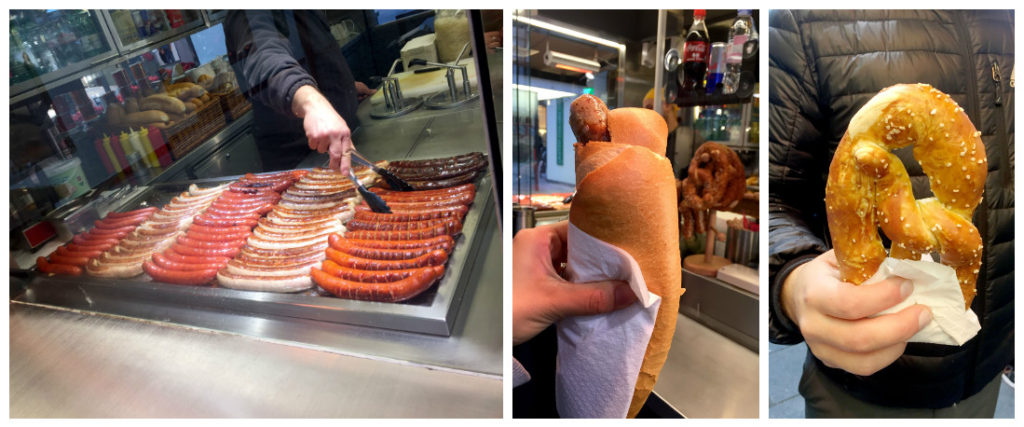 Then we tried a spicy one. You can choose to have your sausage served sliced on a square paper plate with a flat fork-like-"toothpick," mustard on the side. A slice of bread is optional. You can also get it in a roll. We got ours in a roll.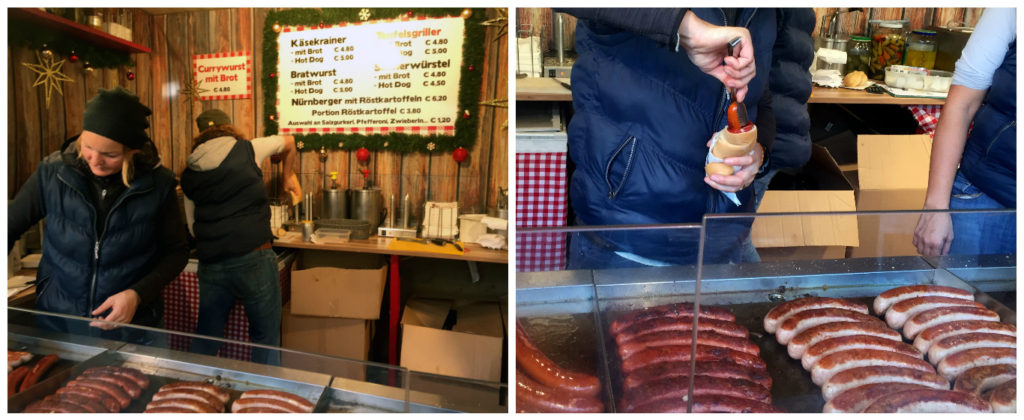 The very end of the roll is sliced off and it's punched down a spike to make a sausage shaped crevice. Mustard/Ketchup are squeezed in and then the sausage is inserted. It's a neat package and makes for cleaner eating than splitting the bread down the middle and getting mustard everywhere.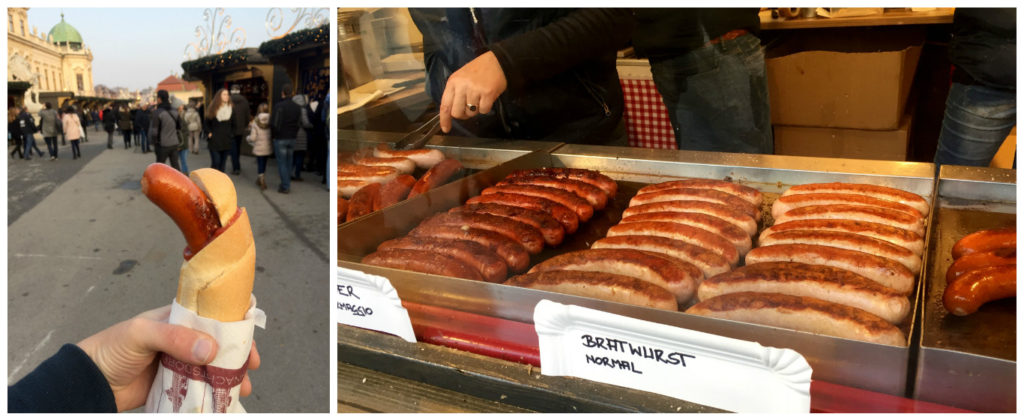 One of the first German words I learned, from my minuscule new vocabulary is Käse (cheese). This came in handy when finding Käsespätzel. It's an egg noodle/tiny dumpling covered in cheese and then topped with crunchy onions, if so desired. It tastes lots like mac 'n' cheese. Vair delicious.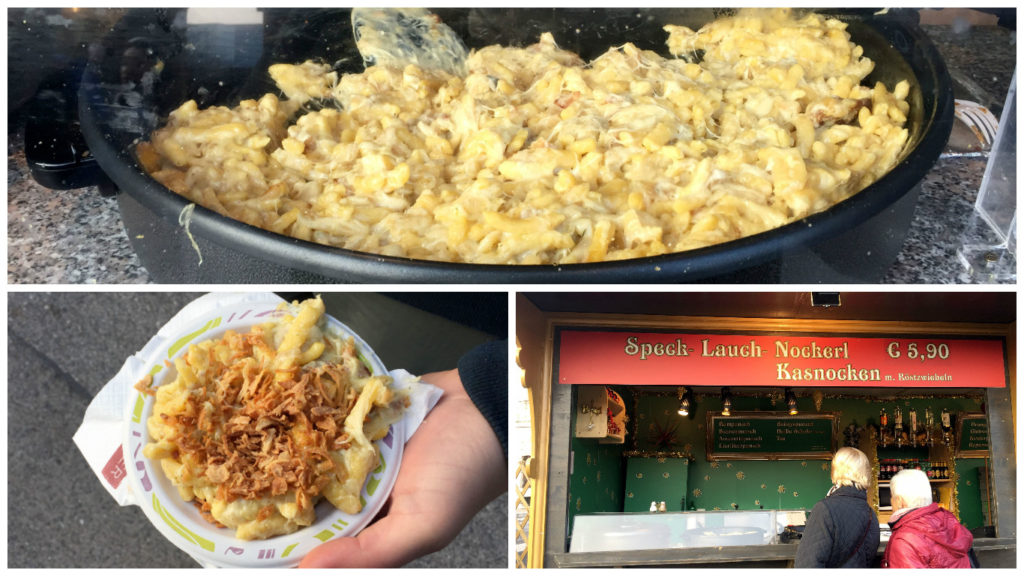 When eating good food, a good drink is needed. Lucky for us, around Christmas time we get mulled wine.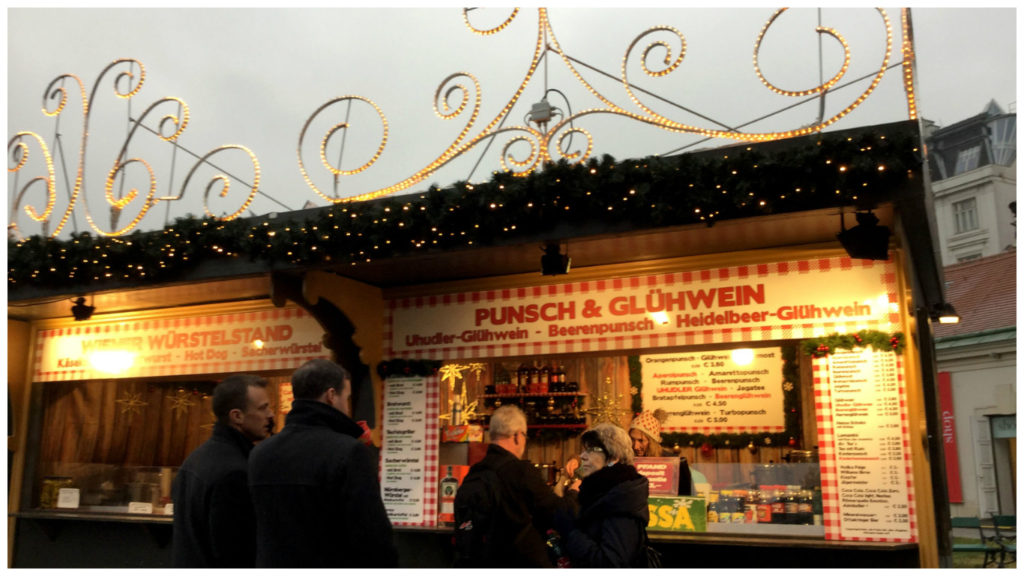 In case you missed it, you can check out our Viennese Thanksgiving feast of roast goose and wild boar, specialties of the house at a historic Viennese restaurant.
You can be sure there are more food adventures to come!